After a succesfull career and a happy life, Finnish goalkeeper Pasi Nurminen died and went to heaven. At heaven`s gate, God Himself was waiting for Pasi.
God says, "Pasi you were such a great goalie that I've given you the best place in heaven."
So they walk down the main street of heaven and Pasi sees the houses become more and more beautiful. In every house`s garden, there was the flag of a different country.
God says, "This is the home of Tommy Salo" and shows Nurminen a great house with big Swedish flags in the garden and other Swedish flags formed by flowers in the garden.
"And there`s where Patrick Roy lives," God says and shows a house which was even greater than Salo`s. This house is painted in the colors of the Maple Leaf, the sign of Canada.
After that, God says: "Pasi, you were such a great goalkeeper that you will get much better place!" They then walk to the end of street where they saw a stunning castle. In the castle garden, there was a Finnish flag in the size of a football field and a parade goes by playing the Finnish anthem.
God says, "Pasi, this is your place; the best place in heaven."
Pasi was really happy. Later, he thinks he`d like to get to know his way around heaven better and started to walk down the main street of heaven. When he got to the other side of street, he was shocked to notice that there was an amazing castle, much greater than Pasi`s. And on the garden there was a huge Czech flag large as a soccer stadium and never-ending beauty.
Pasi was angry and wanted to see God again.
"What`s the meaning of this?!" Pasi asks. "You said that I'd get the best place in heaven, because I am such a great goalkeeper, but now I can see that you gave Milan Hnilicka a much greater place to live."
"What do you mean?" God asked. So Pasi and God walk to this castle and when they was standing under the Czech flag, Pasi says, This is what I mean, this is much greater than my castle."
"Oh! Now I get it, but it isn't Hnilicka's house. This is my house!" answers God.
Jani
---
Preview: The Finnish SM-liiga 2000-01
(16-09-00 ada) SM-liiga is considered to be the best European league. Finland has also a big problem called NHL which "steals" best players from Finland every year. But new and new Finnish future stars and experienced players from other countries are substituting them and the level of SM-liiga does not desrease. Finns could not wait for that moment. The new season has just started! Here is the preview.
The hockey season in Finland begins again on September 14th. The teams' preseason games are over and last-minute changes are taking place, although there's still a little time left to finalize line formations and acquire new players if needed. It's time for hockey fans to wake up, and for the game itself to restore its position as the most-followed sport in Finland.
After last season the SM-liiga made a decision to close itself as a league, at the same time raising the number of teams from 12 to 13 (the new team in the league is Oulun Kärpät). From now on, the winner of the First Division won't win promotion to the Sm-liiga, just as the bottom team won't be relegated out of the SM-liiga. I think it's great that they've finally decided to close the league. It means that the smaller teams won't have to take unnecessarily high financial risks to keep their place in the league, and the teams with money worries can safely rebuild their finances.
The SM-liiga is divided into three groups. Group A consists of good teams: TPS, Jokerit, IFK and the Blues. Tappara, Ilves, Lukko, and Ässät have been placed in group B. Maybe the worst teams - JYP, Saipa, the Pelicans and Kärpät - have been placed in group C, alongside last year's bronze medallists, HPK.
Group A
The Blues, Espoo:
The Blues have a rich owner who can invest a lot of money into the club if he wants to. The team itself has improved a little and has acquired Lukko's goalie Tom Draper (last season Draper was amongst the top-3 Finnish goalies). Their defence has pretty much stayed the same, whilst the attack has acquired more width; one of the best goal scorers in the league, Dale McTavish, has been replaced by Anaheim's Frank Banham. It'll be interesting to see how they do. I think the Blues will improve on last season.
IFK, Helsinki:
This one is an easy team to predict. IFK has both the best defence and offence in the league. They've got great potential, except perhaps between the pipes. Ari Ahonen is a promising young goalie, and Sakari Lindfors is older and experienced, but neither have the class that counts. So, goaltending is the only obstacle to their success that I can see. Should still easily finish in the top four. They'll possibly get NHL-er Kimmo Timonen to play with them until he negotiates a contract with the Nashville Predators.
Jokerit, Helsinki:
Jokerit, the Sparta Prague of the Finnish league. Loved by many, hated by even more. They have the best resources in the league, the largest and most modern arena, and create a huge amount of revenue for their owner Hjallis Harkimo. Harkimo has once again generated the biggest budget in the league, but as we have seen before, money isn't everything. Even Jokerit can't compete with the NHL in terms of salaries. Four defenders from Jokerit left the team to play on the other side of the Atlantic: Sean Gagnon, A-J Niemi, Ossi Väänänen and Josef Boumedienne all now have NHL contracts. Jokerit repaired the damage by acquiring several star Finnish players, including Jukka Hentunen from HPK. Hentunen was a member of the famous H-P-K line. They've also got the best Finnish goalie in the world, Pasi Nurminen. Success for Jokerit is pretty much guaranteed, as always.
TPS, Turku:
Last year's champions TPS have lost many important players. Kai Nurminen and Tomi Kallio left to play in the NHL, and Marko Kiprusoff went to Kloten, Switzerland. But TPS still have a good team and were able to find talented players to replace the ones who left. But what's the secret of their success, year after year? They have one big advantage; the best coach in the league. "Goldfinger" Hannu Jortikka is unique. TPS will probably have a good season but I still don't believe they will win this year. It's time for a change.
Group B:
Ilves, Tampere:
Ilves were a big disappointment last season. They had an expensive squad which couldn't do any better than eighth place. They've rationalised their operation this season. The wage budget has been cut and the over-priced players are gone. They've assembled an average team which will have to fight for the last playoff places. Special attention should be paid to their defence. There are plenty of huge and mean defenders, who will make life for the opposition painful. The grand old man Raimo Helminen remains the soul of the team. You might think nothing's changed. I think Ilves can make it to the playoffs but that's about it.
Tappara, Tampere:
This team has also suffered tough losses during the off-season. Goalie Jason Muzzatti got a better offer from the DEL-league, so he won't be back. And with Muzz gone, I really don't think Tappara will fare any better than last season when they finished 6th. Their defence has also had a face-lift. The supposed leader is Alain Coté who even played in NHL years ago. We'll have to see how he copes with the speed of the SM-liiga. It ain't all negative though!, Tappara still have a respectable offence. They should score a lot of goals next season. We'll see.
Lukko, Rauma:
Lukko and their coach Vasili Tihonov surprised everyone last season. Nobody expected success from their rather anonymous squad. Lukko haven't changed much. They still play a very boring, defensive style of hockey. Too bad, what's boring to watch might be very effective in real life. And their style sure is. Tihonov can get the most out of his players, there's no doubt about that. They lost an important member of team when goalie Draper left to join the Blues. Their new number One is Bruce Racine, another North American. They're expecting him to be as good as Draper. Lukko are certainly a playoff team, but no change as far as medals are concerned.
Ässät, Pori:
The only strength to this team is in the goaltending. They have a solid goalie in Jim Hrivnak, who joined Ässät last season and renewed his contract. If only he had a better defence in front of him. Names like Curtis Sheptak and Pasi Peltonen are the key players defensively. Offensively, Ässät are expecting a lot from their new Czech, Tomas Kucharcik, although in the pre-season games he didn't excel. If Kucharcik and the other forwards don't improve, Ässät will have a long, cold winter ahead of them. I don't think they'll get to the playoffs.
Group C:
HPK, Hämeenlinna:
HPK have suffered the most. Four players moved up to the NHL and, in addition, top defenceman Oscar Ackeström went to Hannover, Germany. Also, the widely known line, made up of Timo Pärssinen, Jukka Hentunen and Niko Kapanen was torn apart. Only Pärssinen remains. They are still searching for a number one defenceman. HPK did have a contract with Jan Vopat, but it turned out he won't be able to play in any club because of his skin allergy. The offensive losses were replaced with maybe the best signing in the league, Pavel Rosa. He's been phenomenal in pre-season games, averaging two points per game. HPK has lost a lot, but they have also gained a few good players in return. Because of its ridiculous grouping HPK will surely make it to the playoffs, but after that there's just a big question mark.
JYP, Jyväskylä:
This is the worst team in next season's league and can take full advantage of the closed status. There's no threat of relegation and so they've decided to start the league keeping a low profile, with a "less is more" strategy. They have the cheapest team in the league, and it's clear that this team is not even aiming for the playoffs. Crap goalies, crap defence, crap attack. Crap everything. If I was a JYP fan I'd be pretty frustrated.
Saipa, Lappeenranta:
Saipa is another one of the weaker teams. Jussi Markkanen, their goalie, left for Tappara and they are left with 2 inexperienced goalies vying for the limelight. It doesn't look too good. Martin Richter is now a NY Ranger and his departure left a gaping hole in the defence. A hole which hasn't been patched-up properly. They have one interesting signing though, Ludek Krayzel, who scored most points for Vitkovice last season, and is supposed to become a star for Saipa. He hasn't yet adjusted to Finnish hockey but the team has no time to waste. They need Krayzel in good form from the very beginning of the season. In my opinion Saipa will be fighting with JYP.
Pelicans, Lahti:
The Pelicans were placed last in the 1999-00 season. They would have been relegated if the decision about closing the league hadn't been made. Now they have an interesting squad assembled with two very interesting newcomers to the SM-liiga. Roman Vopat, a big and physical centre, and Gary Toor, the first ever black hockey player in Finland. Just don't expect Vopat to score, he plays better without the stick than with it, boasting a reputation as a hard-checking guy who can drop the gloves when needed. Six goals in 133 NHL-games tells us all we need to know about his playing abilities. This Toor character then. He's a small defender with nothing much to set him aside from the rest of the team. I don't expect much from him either. An interesting squad, which can only dream of the playoffs.
Kärpät, Oulu:
The newest addition to the SM-liiga, Oulun Kärpät, hasn't changed much since its departure from the First Division. This could be both a strength and a weakness. An obvious advantage is that the players know each other very well. This could mean that they surprise a few teams, especially at the beginning of the season. But this could also be a weakness because the team should have changed more. This is a team which was too good for the First Division, but will it be good enough for the SM-liiga? They still have a bright future ahead of them. Big arena, lots of money and a good coach in Juhani Tamminen. I think Kärpät has a small chance of making it to the playoffs in the Spring. Not so bad at all.
Mikko Männikkö
---
Finland couldn't do its best this year
(24-08-00 ada) Finland always used to be "the team behind". Czechoslovakia, Soviet Union, Sweden and Canada, were the leading hockey teams of 80s in World Championship. Finland erased that gap in the 90s and not only that, Finland ended up 3rd this year. Finns were very unhappy about that. They wanted to win the gold, nothing else matters for them. The analysis of their performance in St. Petersburg in 2000 is made by Mixal.
Author: © Mixal
Date: 24-08-00
Language correction: Echo
Other languages: Finnish (by Mixal), French (by Jack Barron), Czech (by Petr Mesicek), German (by Nicole).
The Finnish National Team had a lot to defend in this year's World Championships. They had won two consecutive silver medals before, but still the Finnish hockey fans demanded nothing less than the gold medal. So it seemed the Head Coach Hannu Aravirta would have a very difficult task ahead of him.
His situation was made even worse because of hard criticism about the players he selected into the team. Aravirta had left out forwards Kai Nurminen, Janne Ojanen and Timo Pärssinen for example. Those three were among the best Finnish born players in last season's SM-liiga. Finland didn't have its best possible attack in this years World Championships. Instead, this time Finland had a very good and strong defense. NHL players Lumme, Niinimaa, Karalahti and Berg arrived to strenghten the defense, and combined with three great Finns, Lydman, Nummelin and Niemi the defense as a whole seemed to be allright. The goaltending trio, featuring Sulander, Toskala and Pasi Nurminen was also supposed to be one of the best in the tournament.
Finland was placed in preliminary group B with Austria, Italy and Slovakia. The group would be a piece of cake for the defending silver medalist. At least hockey fans in Finland thought so. But once again the truth was a little bit different. The 6-0 victory against the Italians was followed by two disappointing draws against Austria and Slovakia.
The negative trend seemed to continue in the next round of the tournament. Finland was placed in qualification group F with Canada, Czech Republic, Italy, Norway and Slovakia. The first game was against Team Canada. Finland lost 5-1 playing it's worst game of the tournament. They didn't succeed in anything. Sulander was disasterous between the pipes. Tough NHL class defense made themselves look like a bunch of fools out there, and the attackers were only able to score one goal. At this point a common opinion in Finland was that Head Coach Aravirta should be fired as soon as possible. The game against Canada was also Ari Sulander's last game in this tournament, and maybe last in his international career.
Then a miracle happened. After three games of bad hockey, the team was somehow able to regain its level. Toskala was chosen as a goalie and with his help, the Finns beat Czech Republic in extremely important battle. Petteri Nummelin was really hot producing 2 goals and an assist. Czechs still won the group and Finland was second despite of its fluctuating performances.
Finland was drawn against Sweden in the quarterfinals. Expectations were high because of two good games against the Czechs and Norway. Finland fought bravely and was rewarded the 2-1 win from Sweden. Toskala was great in goal again, because of this win Finland won back the trust of Finnish fans. Now the Finnish fans could finally smile and cheer again. A place in the semifinals was certain.
Team Slovakia who had played an incredible tournament so far was set to surprise again. Finland was rudely left second in the race for a place in the finals. Finnish players and fans underestimated Slovakia's will and ability to play in the finals. In Finland when people heard that Slovakia would play against us in semifinal, it was considered that Finland would have no problem getting into Finals. Slovakia proved us wrong so this time it was Finland's destiny to play for the bronze medals.
Aravirta made a significant change to the lineup before the bronze match against Canada. The best goalie in Finnish SM-liiga last season, Pasi Nurminen, would finally make his WC debut in the last match. In Finland the fight for the bronze was considered a little meaningless. Since 1994 the Finns have been used to success so much that bronze is not good enough anymore. But anyway the team wanted payback. The humiliating loss against Canada was still on their minds. The tight game was finally won by Finland 2-1. The winning goal was scored by LA Kings' Marko Tuomainen in the last period. Pasi Nurminen played only one game, but still he had enough time to show he was the best Finnish goalie in this tournament.
Petteri Nummelin, Niko Kapanen and Jukka Hentunen were selected as Finland's best players in the tournament. Nummelin was also selected as the best defender in the tournament, and to the first All-star Team. He will play in the NHL next season largely because of this tournament. The biggest disappointment for fans was the goaltending department. It has always been Finland's strenght in International Tournaments. The most positive thing was the line Hentunen-Kapanen-Lind, which started the tournament as a 4th line but quickly rose to be the first line. They were the only players on the Finnish team who were able to play at the same level from the beginning of the tournament.
Mikko Männikkö
Alpo Suhonen - the first European head coach in NHL
(24-07-00 ada) In 1944 John Gottselig became the head coach of Chicago. Gottselig lived in America most of his life but he was born in tsar's Russia. 56 years later another European enters NHL to become the head coach in Chicago - Alpo Suhonen of Finland. The European broke one of the last NHL barriers… Besides Suhonen Pittsburgh will be coached by Ivan Hlinka who led the Czech national team to the gold medal in Nagano 1998.
Author: © Jani
Date: 24-07-00
Language correction: Autumn
Other languages: Czech (by Mishanek), French (by Jack Barron).
Alpo Suhonen is a person who is not interested in people who tell him what they have done before. Instead he likes to see people who tell him what they want to learn and what they will do in future. So it feels strange to start with this history about Suhonen. But if you did not hear about Suhonen before, I think this is the easiest way to get started.
Life of Alpo Suhonen in a hockey and theatre:
June 17, 1948 Alpo born in Valkeakoski
1965-71 played for Karhut, Jokerit and Ässät. Win SM-gold in 1971 in Ässät.
1971-78 FOPS, led as a coach FOPS to SM-league.
1977 Team Finland. Assistent coach.
1978 Junior (18) Team Finland. Head coach. Gold in European Championship.
1978-79 Ambri Piotta (SUI), Head coach.
1979-81 Sai-Pa, led as a coach Saipa to SM-league.
1981 Junior (20) Team Finland. Head coach. Bronze in World Championship.
1982-86 Head coach of Team Finland. (7., 6. and 5.). Leave his job before 1986 WC.
1986-88 ZSC Zurich (SUI), Head coach.
1988-89 HPK, Head coach.
1989 spring. Moncton (AHL).
1989-90 Assistent coach in Winnipeg Jets (NHL).
1991-92 General manager in municipal theatre of Turku.
1992-93 Assistent coach in Winnipeg Jets (NHL).
1993 Jokerit, head coach.
1994-95 Theatre in Helsinki and Turku.
1995 spring Kloten, head coach, won SUI championship.
1996 Kloten, main coach, won SUI championship again.
1996-97 Zurich SC, head coach.
1997 spring Chicago Wolves (IHL).
1997-98 HPK, Head coach.
1998-2000 Toronto Maple Leafs (NHL),Assistent coach.
2000- Chicago Blackhawks (NHL), Head coach.
When I read a story written by Suhonen, I feel that this man is more like a philosopher than a traditional hockey coach. Suhonen speaks rather about humans (players) and their feelings rather than tactics of hockey. Because of this, it is very strange to describe Suhonen briefly. Suhonen is "a civilized man". When he is supposed to choose the place where he will become a coach, first he checks any other aspects of life than hockey in this city: bookshops, culture, thatres, music, conditions... Sports and coaching seem to be the ways for him to experience and perceive the mysteries of life.
Never compartmentalize Suhonen, he is too original. He likes "high culture", but does not behave like most who like it. He hates that exclusive attitude (impertinence, vanity) what many people have who are involved with "high culture" (theatre, opera, art...). For example, when Finnish sculptor Laila Pullinen said that sport is pornography, Suhonen ask about her "Why?" He also asked her if there are thousands of people who visit her show-room.
Returning to hockey and our topic of Suhonen, let's talk about reasons for Toronto is suddenly becoming strong team again. Suhonen gave a couple reasons. They (Pat Quinn and Suhonen) do not control players with tactics exactly, their goal is that players enjoy playing hockey. A team's mobility on ice is very important, therefore they train hard so that player's condition will be good. A goalkeeper's role is key too and Suhonen thinks that Joseph is maybe the best one in the whole league. Mike Smith was very successful too. Suhonen thinks that Smith made a brilliant job when he renewed almost all defensemen in Toronto. Then at the end Suhonen said that in Toronto there were ice artists whose playing was enjoyable to watch. For example Tomas Kaberle is that kind of person. That kind of players could create a good game out of nothing . Now Smith and Suhonen are both in Chicago, it will be interesting to see what happens. When Pat Quinn heard that Suhonen was chosen to be the head coach of Blackhawks he said: Suhonen is the right man for the job. Players has been very pleased to work with Suhonen. For example Manuele Celio (Suhonen coached him in Kloten ) wrote a long article to "Tages Anzeiger" magazine where he told Suhonen devoted his entire life to the game of hockey. This story of mine may not descibe exactly what kind of person Suhonen is. But I am very sure that Suhonen as well as Hlinka is ready for his role of a pioneer European head coaches of NHL hockey team in America. I am also positive that Suhonen hopes that Hlinka will succeed in Pittsburgh.
PS: Suhonen has coached 30 years. If Scotty Bowman not continue then Suhonen has the longest coaching history in NHL.
Jani
Finnish Netminders on the Rise
(19-07-00 ada) There are no borders in ice hockey. An article about Finnish hockey written by an American! That is really exclusive. Also for the first time in WORLD.OHF history a Finnish version of this article is provided!
Finland has several really good goalies in its history but no superstar was ever born there. FlyBear sent a close look at the Finnish netminders and their stay in North America throughout the history.
Author: © FlyBear


Date: 19-07-00
Other laguages: Finnish (by Jaza)
Finland has produced some of the NHL's top forwards of the 1980s and 1990s, most notably Jari Kurri and Teemu Selänne. There have also been Finnish defensemen who have emerged as top-quality NHL players, ranging from Reijo Ruotsalainen to Teppo Numminen. For some reason, however, there have been very few Finnish goalies to make it to the NHL and, as yet, there has not been a single Finnish impact goalie in the NHL. Only Jarmo Myllys, Kari Takko, Jari Kaarela, and Hannu Kampurri have ever so much as started an NHL regular season game. Myllys and Takko represent the (modest) pinnacle of success that Finnish keepers have had in the NHL.
In the meantime, every other major European hockey country has produced at least one regular starting goalie in the NHL. The former Czechoslovakia developed Dominik Hasek and Roman Turek. Sweden gave us Pelle Lindbergh and Tommy Salo. Russia produced Nikolai Khabibulin (not to mention the legendary Vladislav Tretiak, who would have been an NHL star if the political climate of the time had allowed it). Moreover, even some of the lesser NHL goalies from the other European countries, such as Tommy Söderström, Mikhail Shtalenkov, and Petr Skudra, experienced NHL success that was equal or superior to the North American accomplishments of Takko and Myllys.
Over the years, Finland has had some goaltenders who have been very well-regarded in European club team and World Championship play, yet world-class goaltending has never been the hallmark of the Finnish national program. Urpo Ylönen was Finland's first goalie of some international renown. He represented Finland in 3 Olympics and 8 IIHF World Championships. In all, he played 188 games for the Finnish national team. He was selected the best goalkeeper at the 1970 World Championships in Stockholm and made the second All-Star team at the 1968 Olympic Winter Games in Grenoble, France. Ylönen helped author a surprise victory over Canada in the 1968 Olympics. In his 14 year career in the SM-Liiga, his clubs won one gold, one silver and four bronze medals. Nevertheless, the lasting images of Ylönen in many people's minds are some of the frightful beatings he soldiered through as his out-manned Finnish clubs were summarily dismantled by the Russians, Czechoslovaks, Canadians and Swedes. Ylönen, while well-respected, was considered in North American circles to be a notch below Swedish standout Leif "Honken" Holmqvist and well below the elites of the sport, such as Tretiak and top NHLers Bernie Parent, Ken Dryden, and Tony Esposito.
Jorma Valtunen was another top Finnish goalie from the earlier period who was considered a good goalie, but not quite good enough to be ranked among the best in the world. He was an all-star at the 1972 World Championship. Still, outside of Finland, the single most famous game of Valtunen's career was probably the gold medal game at the 1980 Winter Olympics, in which Team USA staged yet another of its patented third period comebacks to down Finland 4-2 and take the gold medal. Among the notable Finnish keepers of the 1980s and 90s, Jukka Tammi was often erratic but was arguably the most successful in key international games, including helping to lead Finland to its first ever Olympic medal (a silver in Calgary in 1988, accomplished with a masterful final game performance against the powerhouse Russians).
Jarmo Myllys is often considered the best goaltender that Finland has ever produced, yet many say that it is a dubious distinction. Myllys has long been an outstanding club team goaltender in both the Finnish and Swedish Elite Leagues. He has also had some international success, most notably in 1995, when he backstopped Finland to its first gold medal at the World Championships, defeating arch-rival Sweden in the finale. Playing behind a mostly undersized, run-and-gun defense corps (including Timo Jutila, Hannu Virta, Mika Strömberg, and Marko Kiprusoff), Myllys stood on his head at times to keep the puck out of the Finnish net throughout the tournament. Still, Myllys has had a hard time gaining respect in North American circles. He has had the misfortune of having some of the worst games of his career in games that were seen in North America. His NHL stays in Minnesota and San Jose were rocky. Moreover, he has been embarrassed by yielding questionable goals in several of his most visible international appearances, most notably in poundings he's taken against Russia and Canada. Most recently, Pavel Bure abused Myllys in the medal round of the 1998 Nagano Olympics. Ari Sulander, a Jokerit goalie with no NHL experience, was called upon to backstop Finland in their bronze medal upset of Canada. Thus, while the Finns have shown that they are a potential medalist at almost all of the major international competitions, respect for the Finnish goaltenders has remained elusive.
With the dawn of the new millennium, however, Finland stands poised to write a new chapter in its hockey history. An ever-growing pool NHL-drafted goaltenders have begun to emerge from Finnish juniors and the SM-Liiga, some of whom are beginning to shape up as legitimate NHL prospects. While it is probable that some of these players will never make it to North America at all and others will go the way of Markus Ketterer and never advance beyond the North American minor leagues, the pool of prospects is sufficiently deep and talented to say with a fair amount of confidence that at least one of the current pool will be the Finns' long-awaited breakthrough NHL goaltender. Indeed, there is a chance that within the next 3-5 years, there could be multiple Finnish-born goaltenders who stake a regular roster spot for themselves. In a telltale sign of the rising stock of Finnish-trained goalies, there have been two Finnish keepers (Mika Noronen and Ari Ahonen) selected in the first round of the last three NHL drafts. There is now little question of whether there will be a breakthrough NHL goalie from Finland; the big questions are how many will there be, and how soon will they make an impact.
These are Finland's top current NHL hopefuls: Miikka Kiprusoff (San Jose), Mika Noronen (Buffalo), Jani Hurme (Ottawa), Vesa Toskala (San Jose), Antero Niittymäki (Philadelphia), Ari Ahonen (New Jersey), Mika Lehto (Pittsburgh), and Kristian Antila (Edmonton). Additionally, standout 24 year old Jokerit goalie Pasi Nurminen, who was the top regular season (and, to date, playoff) goalie in Finland this season should also attract some NHL interest this offseason. The rest of this article will briefly profile each of the candidates.
Miikka Kiprusoff has long since emerged from the shadow of his brother, Marko (a former Montreal Canadiens defenseman). Stuck behind starter Jani Hurme with TPS Turku, Kiprusoff signed with AIK in Sweden before the 1996-97 season. It was the best move the 1995 Sharks 5th rounder could have possibly have made at the time. Kiprusoff quickly emerged as one of the top keepers in the Swedish Elites, backstopping a resurgent AIK team to their best season in quite a few years. The following year, AIK crashed back down to earth, but Kiprusoff remained one of the league's best goaltenders. Although AIK attempted to hold on to Kiprusoff, he elected instead to return to his mother club, TPS Turku, for the 1998-99 season. With the departure of Hurme to the IHL the previous year, the door was open for Kiprusoff to show the fans at home what they had been missing. The results were spectacular. Kiprusoff was by far Finland's top goalie in the 1998-99 regular season and carried his success right on through the playoffs (TPS won the Finnish championship and Kiprusoff was chosen playoff MVP) and the World Championships. Finally taking notice of the young goalie, the San Jose Sharks signed Kiprusoff to a contract in the 1999 offseason. Assigned to the Kentucky Thoroughblades of the AHL, Kiprusoff has split time with Swedish import, Johan Hedberg. While both goalies have performed well, it has been the rookie Kiprusoff who has drawn the greater attention. Kiprusoff has shown himself to be very technically sound, with quick reflexes and good side-to-side agility. The adjustment to the smaller rink has gone more smoothly than expected. At 23 (he'll turn 24 in October), Kiprusoff is now knocking on the door of a potential NHL callup during the 2000-2001 season.
After providing somewhat modest early returns upon his 1997 first round selection by the Buffalo Sabres, Mika Noronen has come to North America and emerged as a top AHL goaltender this season; the best in the league, in the opinion of some. He was selected the American League rookie of the year; a well-deserved honor. Although some questioned his stamina at first, he proved the concerns to be unfounded. In one recent stretch, Noronen played every minute of 18 consecutive games for the Rochester Americans. The streak ended after a fatigued Noronen let in two bad first period goals in a road game against the Philadelphia Phantoms. He was pulled in favor of Kirk Daubenspeck. Noronen has subsequently resumed his excellent play. In his young AHL career, Noronen has already demonstrated the ability to make both the routine and the tough save. Although Rochester is one of the AHL's better defensive teams, they, like all teams, have breakdowns. Noronen has shown the ability to rise up at key junctures of games and hold the fort until his team rights its ship. The biggest short-term obstacle facing Noronen is the fact that he plays in a Buffalo organization that is stocked at the goaltending position. Besides the Dominator, there is another excellent young goalie, Martin Biron, who has already gained NHL experience and shown the potential to become a good NHL keeper. Buffalo's goaltending depth will enable to organization to keep Noronen in the minors for another year; thus getting a better read on his development and his long-term projections in relation to Biron.
Unlike Kiprusoff and Noronen, Jani Hurme's odds of becoming an NHL starter have faded a bit since signing his first NHL contract. His development in the North American minor leagues has taken longer than first expected. Nevertheless, he has come on to the point of at least meriting consideration for a full-time NHL backup spot (actually, he did dress as a backup to Patrick Lalime for the Ottawa Senators early this season, when Ron Tugnutt missed the start of the season with th a knee injury. Hurme saw no game action and was soon returned to the IHL). Hurme was considered an up-and-comer by the Ottawa organization when they drafted him in the second round (58th overall) of the 1997 NHL Entry Draft. Playing his junior hockey with Kiekko-67, Hurme transferred to TPS Turku in 1995-96 and became one of the top goalies in Europe. He signed with Ottawa shortly after the 1997 draft and reported to the IHL. The upward arrows of Hurme's career soon flattened a bit. After several shaky early season starts for the Detroit Vipers, he lost his starting job to Johan Hedberg. Ottawa then him transferred to Indianapolis, for whom he played inconsistently. He subsequently has moved on to Cincinnati and, finally, Grand Rapids. Meanwhile, his projections dropped to the one-star (longshot) range in the Hockey News. Over the last two seasons, Hurme has finally completed his adjustment to North American hockey and has become arguably the top goalie in the International League. With another NHL expansion draft coming up after this season, Hurme, who is still 3rd on the Ottawa goaltending depth charts, is a name to keep in mind as a potential NHL backup for one of the new clubs.
Prior to this season, the acrobatic Vesa Toskala was a fast rising prospect in the Finnish Elites, backstopping Ilves to respectability last season and earning a spot on the national team. The soon-to-be 23 year old goaltender signed a contract to join the San Jose Sharks organization for the 2000-2001 season. In the meantime, he transferred for the current season to former Swedish champion Färjestad BK. Both Toskala and Färjestad proved to be something of a disappointment this year (Färjestad finished 7th in the league and bowed out of the playoffs in the first round). Toskala, who is something of a gambler in net and tends to run hot and cold, never did get on a roll this year, although his post-season performance was a bit better than his regular season. He remains a wildcard NHL prospect due to his athleticism and ability to make highlight reel saves. First, he will have to endure at least two minor league seasons in North America.
Arguably, the fastest rising Finnish goalie prospect is nineteen year old Antero Niittymäki. A favorite of legendary trainer Vladimir Yurzinov, Niittymäki enjoyed a good deal of success in TPS' junior program. Nevertheless, few outside of Turku paid much attention to Niittymäki prior to this year. The Philadelphia Flyers European scouting director Inge Hammarström took sufficient notice to recommend his selection in the 6th round of the 1998 entry draft. Nearly two seasons later, the pick is shaping up as a potential gem. In a nutshell, Niittymäki has done things that no one would expect of a teenage rookie in the high-scoring, veteran laden SM-Liiga. After putting in an eye-opening showing at the Flyers 1999 summer prospect camp, Niittymäki has gone home to build on his success. Taking advantage of the early season absence of scheduled TPS starter Fredrik Norrena, Niittymäki easily seized the starting job away from Kimmo Lecklin. Not only did he become the starter, he became the top goalie in Finland during the pre-Christmas break portion of the season (Niittymäki was officially selected as a first half All-Star, receiving an award presented in a pre-game ceremony by Jari Kurri). Fans and scouts were amazed by his lightning quick glove and his ability to show a five hole and then pull it away. If there is any weakness at all to his game, it is on the stick side. He will also have to come out of his net a little more to adjust to the North American game; however this is adjustment that all European goalies face due to the change in rink configuration.
Niittymäki entered the 1999-2000 World Junior Championships as Finland's starting goalie, performing decently before faltering just a tad and splitting medal round time with Ari Ahonen. Niittymäki's profile in the second half of the season was reduced, as Norrena got the majority of the starts. Nevertheless, when he did play, he continued to do well. Niittymäki concluded the SM-Liiga's regular season with a sparkling .930 (actually .9295) save percentage, a 2.15 goals against average, and a 23-6-2 record. He also fashioned 3 shutouts; two of the 30+ save variety. As the playoffs rolled around, Niittymäki sat behind Norrena in the first round. But when Norrena faltered early in the second round, the call went out for the teenager. Showing nerves of steel, Niittymäki went out and won the next three games for TPS in spectacular fashion. He enters the upcoming Finnish championship series against Jokerit with a gaudy .945 playoff save percentage and a 1.68 goals against average. Meanwhile, the Flyers have already indicated that they think he is ready for the AHL after just one Finnish Elite League season. With all the attention being paid to Flyers rookie goalie Brian Boucher and QMJHL standout Maxime Oullet, Niittymäki still faces a tough road ahead if he is to become the Flyers starting goalie of the future. But he has exploded out of the gates so quickly in his pro career, that it would be a mistake to for anyone to write off his chances.
Before the quick emergence of Niittymäki, the fastest rising WJC-eligible goaltending name in Finland was Ari Ahonen. Ahonen was a surprise number one pick by the New Jersey Devils at the 1999 entry draft. Although some questioned the pick because Central Scouting had projected him somewhere around the third round, Ahonen also had a solid corps of supporters, especially after he led Finland to a gold medal over Russia at the 1999 World Under-18 championships. Before this season, he transferred from JyP's junior system to the higher profile HIFK program. Ahonen split SM-Liiga starting time this season with American veteran Parris Duffus. The rookie's numbers were quite respectable, as he finished in the top half of most SM-Liiga goaltending stats this year and notched his first Elite league shutout. He split time with Niittymäki at the World Junior Championships. When the playoffs rolled around, Duffus got all 7 starts for HIFK before they were eliminated. All in all, Ahonen rookie performance this year was solid. While it was not as stunning as what Niittymäki has accomplished, Niittymäki had the advantage of playing for the strongest team in Finland (and one of the best anywhere in Europe). Ahonen's long-range potential remains quite promising, although Martin Brodeur is not giving up the reigns to him or anyone else in the near future.
Oiler draftee Kristian Antila (1998, 113th overall) was very highly regarded in many circles when he was first selected by Edmonton. Going into this season, some pegged him as a rising star. He may yet meet those expectations. However, few would argue right now that he currently stands on par with either Ahonen or Niittymäki. He was very ordinary this season for Ilves. Feeling the sting of losing Toskala and others, Ilves was a .500 club with new keeper Pasi Kuivalainen in net. With Antila in net, they were less than that. Antila, who got into 25 regular season games and one playoff game, finished the year ranked 25th on the Finnish goaltending charts.
Meanwhile, Penguins 1998 draftee Mika Lehto looked to be poised to claim the Ässät starting job for the 1999-2000 season, after the departure of incumbent starter Kuivalainen. Instead, the struggling team from Pori ended up rotating three keepers; the most successful of whom was veteran Jim Hrivnak (.913 save percentage, despite a 6-12-5 record and 3.15 goals against average). Lehto got into 23 games and had a pedestrian season, posting a 4-11-3 record, 4.75 GAA, and .862 save percentage. It is important to remember, however, that he is an inexperienced goalie playing for one of the weaker teams in the league. Lehto will be looking to take the starting job and run with it next season. In the meantime, 23 year old SM-Liiga rookie Timo Leinonen ended up playing parts of 13 games for Ässät this year.
Bill Meltzer
Express your opinion on Forum!!

---
Best players leaving Finnish SM-liiga...
game level decreasing?
(07-07-00 xRadis) Finnish and Czech hockey have very much in common. Finnish and Czech leagues are considered as two best European leagues, many Czech hockey tars have played very well for Finnish clubs (however not on the contrary), both national teams have been very successful recently (at World Championships as well as at Olympic games). And both countries must undergo massive leavings of their stars and also talents to the American competitions.
Today you can read a Finnish fan's look at this situation, sad for the European fans, pleasant for the fans in North America.
Author: © Mixal


Date: 07-07-00
Language correction: Gábina
Other laguages: German (by Che), Czech (by Vykucka)
The Finnish SM-liiga appears to be in a difficult situation. Many of its star players are leaving Finland and going abroad. NHL's expansion to a 30-team league is playing a big part in this mass move. More teams, more players, more draft picks. NHL has to get new players. And nowadays good players come more and more from Europe.
Blues Espoo lost Canadian goal scorer Dale MacTavish to Swiss Rapperswill. Skillfull artist Otakar Janecky left Espoo to his home country Czech Republic. His new address is HC Pardubice.
HIFK Helsinki is losing two great players to NHL. Toni Lydman, one of the best defenders playing in Europe, is going to Calgary Flames. Czech star Jan Caloun might also try his chances for a second time in the NHL. New team Minnesota Wild is interested in getting Caloun, who might well be the best player in SM-liiga history.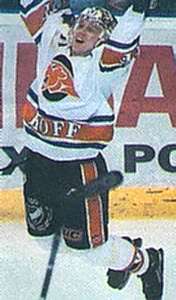 HPK Hämeenlinna now faces a big challenge. How to replace all the important players? Top Swedish defensive duo, Oscar Ackeström and Jonas Junkka, are ready to take off. Ackeström will play for German team Hannover next season. Junkka was picked by Columbus Bluejackets in the NHL expansion draft, and he will try his luck if Columbus offers a decent contract. HPK is also losing wonderful Czechs Tomas Vlasak and Roman Simicek to NHL. Vlasak already has a contract with LA Kings and Simicek is almost certain to get an offer from Pittsburgh, coached by another Czech Ivan Hlinka.
Another magnificent Czech forward to leave SM-liiga is Petr Tenkrat. Tenkrat, who played for HPK and Ilves last season, accepted an offer from Anaheim Mighty Ducks and may play with players like Paul Kariya and Teemu Selanne next season. Because of his ultra fast speed and great scoring ability Tenkrat was an electrifying player to watch. It's too bad he won't be here anymore when the new season begins.
The spectators will also be miss two other players, Sean Gagnon and Esa Tikkanen. Loved by fans of Jokerit, and hated by the fans of the other clubs. Those two were players that caused strong emotions. Gagnon will go back to Phoenix Coyotes and Tikkanen will make his decisions later.
Also one of the best goalies in SM-liiga, ex-NHLer Jason Muzzatti left Tappara and went to DEL-league. Muzzatti's new team is Augsburg. Tappara also got rid of their talented Czech forward Roman Meluzin, who also went to Germany. His new team is Moskitos Essen.
Last season's champion TPS Turku lost two tremendous forwards to NHL. Tomi Kallio went to Atlanta Trashers and Kai Nurminen accepted a contract offer from Minnesota Wild. Nurminen scored the most total number of points in last season's SM-liiga.
So far, the movement of star players from SM-liiga has been much stronger than movement to SM-liiga. Possible replacements for stars next season might be Czech and Finnish names like Jiri Burger, Marian Kacir, Antti Tormanen, Pasi Saarela, Ludek Krayzel, Jarkko Varvio or Tomas Kucharcik. They already have a written contract with some of the SM-liiga clubs.
It is clear that these new players can't replace the ones who left. What does this mean to a fan? There won't be so many individual players who are fun to watch. And now there will be teams that are totally uninteresting. Combined to the fact that ticket prices and amount of games are increasing, it is expected that we might see a decrease in average attendances.
Mikko Männikkö
Express your opinion on Forum!!
---