(01-12-00 Rollo) HC Rapid Bucuresti seems to have been dissolved in the middle of the season. According to rumors, Elekes have returned to SCMC and Lupascu, Andrei and Popovici have gone to Steaua. Earlier the 5-6 Ukrainians also left the club. Indeed, the leadership of the team have declared that due to financial problems everyone is free to go to other teams. Because of the financial situation Rapid did not travel to Galati, and therefore Dunarea was awarded 2x5-0. It is obvious, we have seen the last of Rapid this season. How this will inflict the standings and the rest of the season is yet unknown.
What promised to be an exciting "Liga Nationala de Hochei pe Gheata" 1999-2000, turned out to be one of the most negative seasons in Romanian ice hockey history. Not only did the National team severely fail in the WC-C pool in Chinese Beijing, the championship at home was also a sad story of scandals and foul play. But apart from all negativity the season saw some exciting games and a more evenly competitive league than for many years.
Liga Nationala de Hochei pe Gheata 1999-2000
Crippled and prolonged until the end of May, the league schedule had to be changed many times. The main reason for the
delays
was the repairs to the ice halls in Bucharest and Galati. The pipes for the cooling systems had to be delivered from Romania's only company constructing these; Silcotub in Zalau, and they failed to deliver in time. Thus, the teams from Bucharest and Galati "stood" without a home arena in the first rounds. Steaua and Rapid refused to play their home games in Transylvania. SCMC with a functional arena speared ahead early and remained on top for the whole season. What was regarded as the usual affair between SCMC and Steaua turned out to be more exciting then that. Rapid bought SCMC's top-scorer Levente Elekes and became a respected adversary. Progym with their fine junior effort had created a winning team. In the end Steaua held their position against the chasing two and became the opponent to SCMC in the final playoff. Rapid and Progym had to settle for a "bronze play-offs".
For the last two seasons
Steaua
had narrowly won the
finals
against
SCMC
with the closest of margins; 3-2 in games. SCMC had now for the first time since 1997 won the preliminary round and looked forward to have the decisive match at home. This was not to be as SCMC won three straights! The first home game in Miercurea Ciuc, ended with a close 5-4 victory, after being down 3-4 in the second pause. The two following games in Bucharest promised close and hard fought fights, though in the end Steaua stood there humiliated after loosing 0-8 and 3-7. In the 3rd prize fight, Rapid grabbed the bronze, winning once in Gheorgheni was enough for a 3-1 total.
For the
other teams
the season was a boring run. They had very little to upset the four "bigs", though
Dunarea
managed to win at home against
Progym
and draw with
Steaua
.
Sportul
made a weak appearance, far from their last season's fourth place. Poor
HCSG
did not manage to win a single point, mainly due to the loss of their key players. Though creating an exciting run for the play-offs this season made headlines mainly because of scandals. All teams accused the referees of being puppets to Steaua.
Rapid's
fans started a riot in the stands when Rapid played Steaua. Players in the SCMC were under suspicion for some criminal doings. Let's hope we do not have to see this next season.
Apart from the league Steaua and SCMC participated in the
Continental Cup
. Both teams made it to the second run where hard and excellent opposition made it stop. Steaua though made headlines because of bold and fine play.
The Romanian Cup was also played in october -99. Held in Miercurea Ciuc, Steaua won surprisingly easy.
Next season
will unfortunately be a team short. Rapid decided to close down their ice hockey activity after only one season. However, rumours are that a second team is emerging in Miercurea Ciuc. In time for this report both these rumours are unconfirmed.
National Team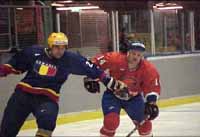 Romania went to China in the belief that it should at least be a final against old arch-rivals Hungary. However, it turned out to be the
worst ever World Cup in Romanian icehockey history
. Things started smooth and well - 9-1 against southern neighbour
Bulgaria
. That was about it. After 4-4 vs
Croatia
, Romania was out of the final play-offs on goal defecit. A play-offs for 4-6 place could not be as challenging but Romania only managed to draw with
Lithuania
and lose to
Korea
! After the debacle scandals were told; heavy drinking, touristing and a lack of preparations.
In the fall of 1999 Romania played a
qualification tournament
in Poland. The team consisted of players from Transylvania (SCMC and Progym) solely. 0-4, 1-9 and 2-11 were not flattering results against Great Britain, France and Poland.
Other events
I learned that ice hockey is indeed played by
women
in Romania too. Appearently a team in Bucharest had some activity and is now joined by SCMC and Progym who decided to start sections for women.
The really good news for Romanian ice hockey this season was
Dinamo Bucuresti's
announcement that they are back on the hockey scene with plans to build a completely new ice hall in Bucharest. Dinamo will however start with only a junior team next season.
Stefan Kreuger
Rollo's website devoted to Romanian hockey:
http://home.swipnet.se/hochei
---